For all you people who don't know Konami. Konami were the best software-designers for the
MSX
-platform (In my opinion that is...). They were active from 1983 till the late 80's; begin 90's. Like many people back then I started collecting them
Konami ROM's
. That is why I own a big collection of them now. I really could never sell one of these babies ever!
The first cartridge I bought was
Nemesis 2
. Like memories... Anyways, the list starts at Nemesis 1; the first
MegaROM
from Konami. [Please note that it was pretty difficult to get the ROM's properly scanned -handscanner...- so don't mind that the ROM's look a bit skew. Because of the amount of pictures the page takes a while to load...]

Nemesis 1 (Gradius) - [RC-742]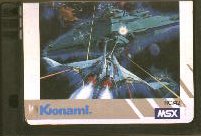 As weird as it is; before I bought this game I already had Nemesis 2,3 and Salamander. That couldn't stop the game from being great fun although the sequels had better GFX.

Penguin Adventure - [RC-743]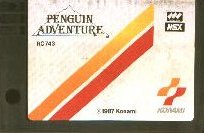 Will the princess be alive?

Vampire Killer (Dracula) - [RC-744]
Although this game isn't that rare, I don't have it yet (well, not originally...). And to be honest I don't like it that much too... I wonder if this was Konami's first MSX-2 game...

king kong 2 - [RC-745]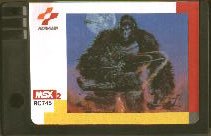 This really is a nice game. It's pretty hard too.

Qbert - [RC-746]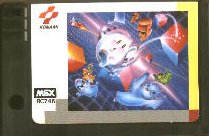 This is MSX-1 again. I'm not that a great fan of this type of game, but I must admit that Konami did a great job on this (because of the two-player mode).

Hinotori (Firebird) - [RC-747]
I've played it and I loved it right away, but I don't have the ROM &nbsp:(

Samurai (Goemon) - [RC-748]
I've played this too and I must say I don't like it.

Maze Of Galious - [RC-749]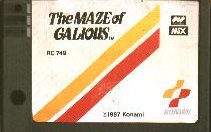 This is the game I probably played most of all... And after all those years I finally know where the dagger is (was about time...).

Metal Gear - [RC-750]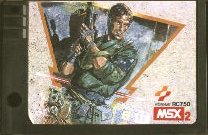 This defenitly is one of the best Konami's ever! It also was one of the first games that let me experience the MSX-2.

Nemesis 2 - [RC-751]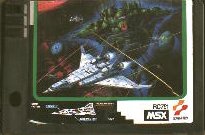 This was the first konami with the amazing SCC build in. The music from this game is really great!

Formula-1 Spirit - [RC-752]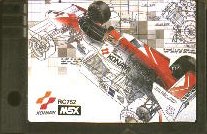 This is the best racing game ever made on MSX-1! Again the SCC was implented, which caused a great racing-experience.

The Treasure Of Usas [RC-753]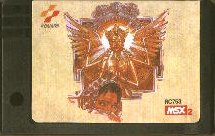 This was the first MSX-2 game from Konami I ever played... I can't figure out why they didn't use SCC-music...

Shalom (Knightmare 3) - [RC-754]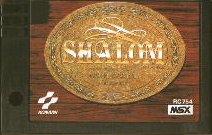 Maze Of Galious is ten times better. What did Konami do here?

Game Master 2 - [RC-755]
I've never been able to buy one of these. Have never seen in yet.

Break Shot (???) - [RC-756]
This is a gap in the konami-list... What is it?

Pennant Race - [RC-757]
Pennant Race is a baseball-game. I've seen it on fairs before and I had the chance to buy it, but it didn't look that interesting to me.

Salamander - [RC-758]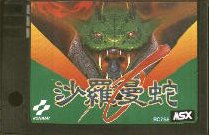 What I like about this game is the variety of scrolls and the great SCC-sounds... (their just
extremely
nice!). Everybody who has heard the music knows what I mean.

Parodius - [RC-759]
Can you believe it? I once had the chance to buy this on a fair bit I didn't have the money! (talking about bad luck...)

King's Valley 2 (Pyramid Power) - [RC-760]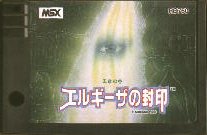 What I liked so much about this game was the level-editor...

King's Valley 2 [MSX-2 version] - [RC-761]
The GFX are a bit nicer, that's all...

Contra (Gryzor) - [RC-762]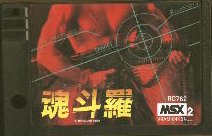 Many thought this was the sequel to Metal Gear.

Tentochito - [RC-763]
Another gap in the list. It seems this game has never been released...

Nemesis 3 (Vixen episode 2) - [RC-764]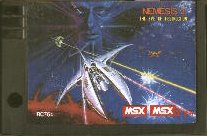 Well, this is my favourite Nemesis. Great music, great story en
awesome
gameplay...

Majutsushi (Mahjong 2) - [RC-765]
I don't like mahjong...

Pennant Race 2 - [RC-766]
I don't like baseball too...
We've comen to the last (and best) games of konami... I'm really proud of these

Solid Snake and Space Manbow are the pearls of my collection. This is plain quality! The story of Solid Snake is so great and the gameplay is better than most PC games of today. Software-creators; you can learn from this!

Solid Snake (Metal Gear 2) - [RC-767]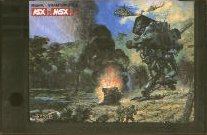 This game is HOLY!

Space Manbow - [RC-768]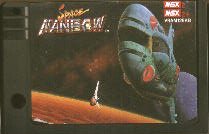 A whole other experience than the Nemesis-series... It feels like a game from the arcade. You just blast everything away! The sounds are so powerfull... Play it!

Quarth - [RC-769]
Was this the last ROM from Konami? I don't know...
---
Do you have more information on the gaps in the RC-numbers? Please mail me at
kenda@mailcity.com
.